Classic Leather Saddlebags
$

779.58
Out of stock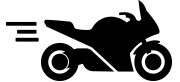 Estimated Shipping Time: We are currently experiencing a high volume of orders. Please allow additional time for shipping.
Description
Fitment: M109 (06-20), M90 (09-19), M50 (13-19)
Requires Saddle Bag Supports:
M109 Saddlebag Support: 990A0-75049
M90 Saddlebag Supports: 990A0-75068
M50 Saddlebag Supports: 99000-99074-86N and Mount Plate: 99000-99074-87N
The Suzuki Boulevard bolt-on saddlebags are custom engineered with the finest quality leather for a classic look and feel.
Return Policy