Deluxe Leather Saddlebags
$

1,159.68
Availability: In stock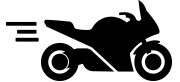 Estimated Shipping Time: We are currently experiencing a high volume of orders. Please allow additional time for shipping.
Description
Fitment:Boulevard C50: 2009 – 2020
Top quality leather saddlebags feature 9 oz. heavy duty premium leather with hard molded back construction for great looks and long life. Deluxe saddlebags feature a hidden twist lock fastener behind buckle for easy opening and closing and die-cast Suzuki Boulevard logos on each bag lid. 10" H x 14" W x 7" D.
Return Policy