Optimate 1 Duo
$

69.95
Out of stock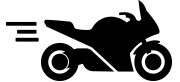 Estimated Shipping Time: We are currently experiencing a high volume of orders. Please allow additional time for shipping.
Description
CHARGE YOUR 12V STANDARD LEAD-ACID AND 12V LITHIUM LFP BATTERIES!
AUTOMATICALLY saves, charges and maintains your battery!
ADAPTIVE charge program adjusts automatically to PB or LFP batteries.
SAVES batteries from as low as 4V.
Return Policy