V-Strom 800DE Aluminum Top Case (Black/38L)
$

772.95
Availability: In stock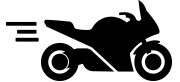 Estimated Shipping Time: We are currently experiencing a high volume of orders. Please allow additional time for shipping.
Description
Always right choice with aluminum top case embossed with SUZUKI logo.
Maximum load 3kg and case capacity 38L.
Please use this item in the speed less than 130km/h.
Black: Powder coated.
In combination with:
Carrier set (p/n 93800-25830)
2 locks (p/n 95700-25810)
Return Policy