V-Strom 800DE Aluminum Side Case (Black)
$

1,337.95
Availability: In stock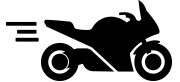 Estimated Shipping Time: We are currently experiencing a high volume of orders. Please allow additional time for shipping.
Description
Always on top choice on V-STROM, aluminum side case embossed with SUZUKI logo. Maximum load 3kg and case capacity 37L each.
Please use this item in the speed less than 130km/h.
Black: Powder coated.
In combination with bracket (p/n 93700-25820).
Locks are required (p/n 95700-25830 / 95700-25810).
Return Policy