Discover the full range of Suzuki Outboard Motors and Suzumar Inflatables to learn more about what gives our products the ultimate advantage.
A hallmark of Suzuki: durability and reliability. For generations, boating enthusiasts have relied on Suzuki quality to bring them home. Suzuki Outboards have features designed to prevent failure, alert you before you encounter a problem, and to be easy to service when the need arises.
Dual Louver
Water Detecting System
Self-Adjusting Timing Chain
Dual Water Inlet
Tilt Limit
Sub Water Inlet
Keyless Start System
Anti-Corrosion
Suzuki SDSM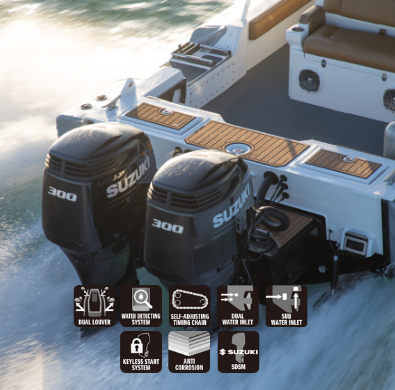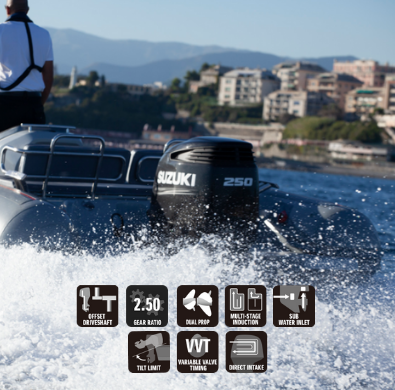 With Suzuki's Ultimate Outboard Motor expect the Ultimate Ride! Our outboards offer smooth and feisty acceleration at all operating ranges, and powerful torque.
Offset Driveshaft
2.50 Gear Ratio
High Energy Rotation
Dual Prop
Multi-Stage Induction
Variable Valve Timing
Direct Intake
Suzuki's outboard motors are engineered to offer a great boating experience, day-in and day-out. With less vibration and noise, all you'll remember from your day on the water is the fun. They are light and compact; easy to use, with smooth and decisive shifting, and easy to love!
Selective Rotation
Precision Control
Quiet Operation
Three-Way Storage
Overhead Tank
Troll Mode
Gas Assist
Easy Start System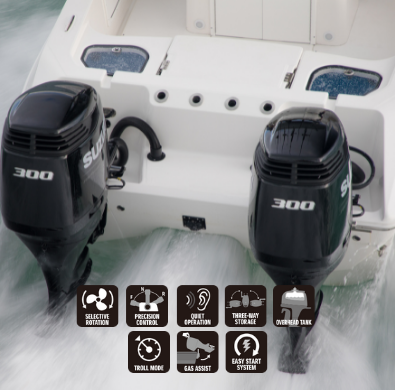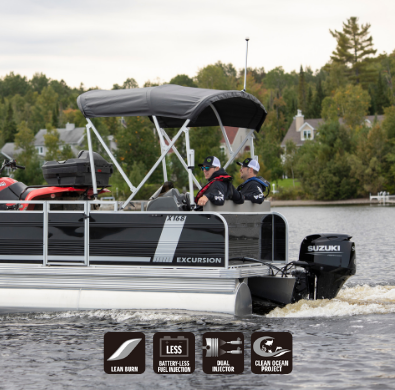 Use Less Power, Create Less Waste
Suzuki's Ultimate Outboard Motor offers fuel efficiency and low emissions for low maintenance costs and less environmental impact. Suzuki further supports this with their Clean Ocean Project Initiative.
Lean Burn
Battery-Less Fuel Injection
Dual Injector
Clean Ocean Project
With Suzuki's Ultimate Outboard Motor, you'll get durability, performance, comfort and efficiency that brings you home day after day with a smile on your face.
Take advantage of Suzuki Canada Special Offers on our full-line of products and accessories.
View Special Offers
Discover the Ultimate Marine experience with Suzuki Outboards. Suzuki outboards are the choice for customers around the world with our technology and reliability. Trusted by all in a variety of environments, Suzuki's outboards are constantly evolving and setting the bar even higher.
Since incorporation in 1920, SUZUKI has steadily grown and expanded. Today, the SUZUKI name is seen on a full range of Motorcycles, ATVs and Outboard Motors.
The Suzuki trademark  is recognised by people throughout the world as a brand of quality products that offer both reliability and originality. SUZUKI stands behind this global symbol with a sure determination to maintain this reputation well into the future.
See all Outboard Motors