Boulevard Logo Storage Cover
$

233.70
Availability: In stock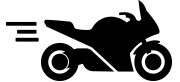 Estimated Shipping Time: We are currently experiencing a high volume of orders. Please allow additional time for shipping.
Description
The Suzuki Genuine Boulevard Cycle Covers are constructed from heavy-duty polyester with special ClimaShield fabric to help prevent fading.
Features:
Fully-taped seams with side vents allowing the cover to breathe. Protective interior windshield liner and heat shield allows for use immediately after riding
Fitment:
M90
M50
C90
C50
*NOTE: If you do not see your Boulevard listed here, please see this cycle cover, 990A0-76028.
Return Policy