V-Strom 800DE LED Fog Lamp
$

794.95
Out of stock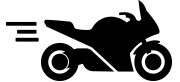 Estimated Shipping Time: We are currently experiencing a high volume of orders. Please allow additional time for shipping.
Description
Long-time seller with V-STROM, bright LED fog lamps are firmly attached to the accessory bar. Improves visibility and enhance the appearance. Set of right and left lamp.
In combination with accessory bar (p/n 94200-25810).
Return Policy