NOCO – Genius 1
$

61.95
Availability: In stock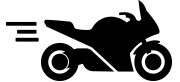 Estimated Shipping Time: We are currently experiencing a high volume of orders. Please allow additional time for shipping.
Description
Introducing the all-new GENIUS1, one of our most powerful, highest-performing, energy-efficient, and compact chargers yet. The GENIUS1 is a 6-volt and 12-volt battery charger, battery maintainer, and battery desulfator rated at 1-amp for lead-acid batteries (WET/GEL/MF/EFB/AGM).
-Enjoy precision charging – An integrated thermal sensor detects the ambient temperature and alters the charge to eliminate over-charging in hot climates and under-charging in cold climates.
-Charge dead batteries – Charges dead batteries as low as 1-volt. Or use the all-new Force Mode that allows you to take control and manually begin charging dead batteries down to zero volts.
-Simple to set up and use – Plug-in, connect to the battery, select a charge mode, and start charging your battery. A fully-automatic, worry-free battery charger for year-round use.
-Restore your battery – Detects sulfation and acid stratification and restores lost performance for stronger engine starts and extended battery life.
-Compatible with all types of vehicles – Charge and maintain all of your Suzuki machines.
Return Policy