Suzuki V-Strom Backpack
$

192.41
Availability: In stock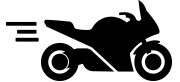 Estimated Shipping Time: We are currently experiencing a high volume of orders. Please allow additional time for shipping.
Description
For your motorcycle trips and for all your excursions.
Multi-compartment backpack, perfectly sealed with roll-up closure
Black colour with logo and inscription V-Strom
Capacity: 25L
Material: 100% polyvinyl chloride and 100% polyester inner lining.
Adjustable strap.
Return Policy