V-Strom 1050 Aluminum Sidecase Carrier Set
$

775.45
Availability: In stock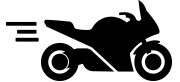 Estimated Shipping Time: We are currently experiencing a high volume of orders. Please allow additional time for shipping.
Description
The side case carrier set is required to install the Aluminum Side Case Set (990D0-ALSC3-037) on the V-Strom 1050.
Fitment:
V-STROM 1050: 2020 – 2023
Note:
Does not fit 2023 V-STROM 1050DE, please purchase 99147-06L00-ALU instead.
Return Policy