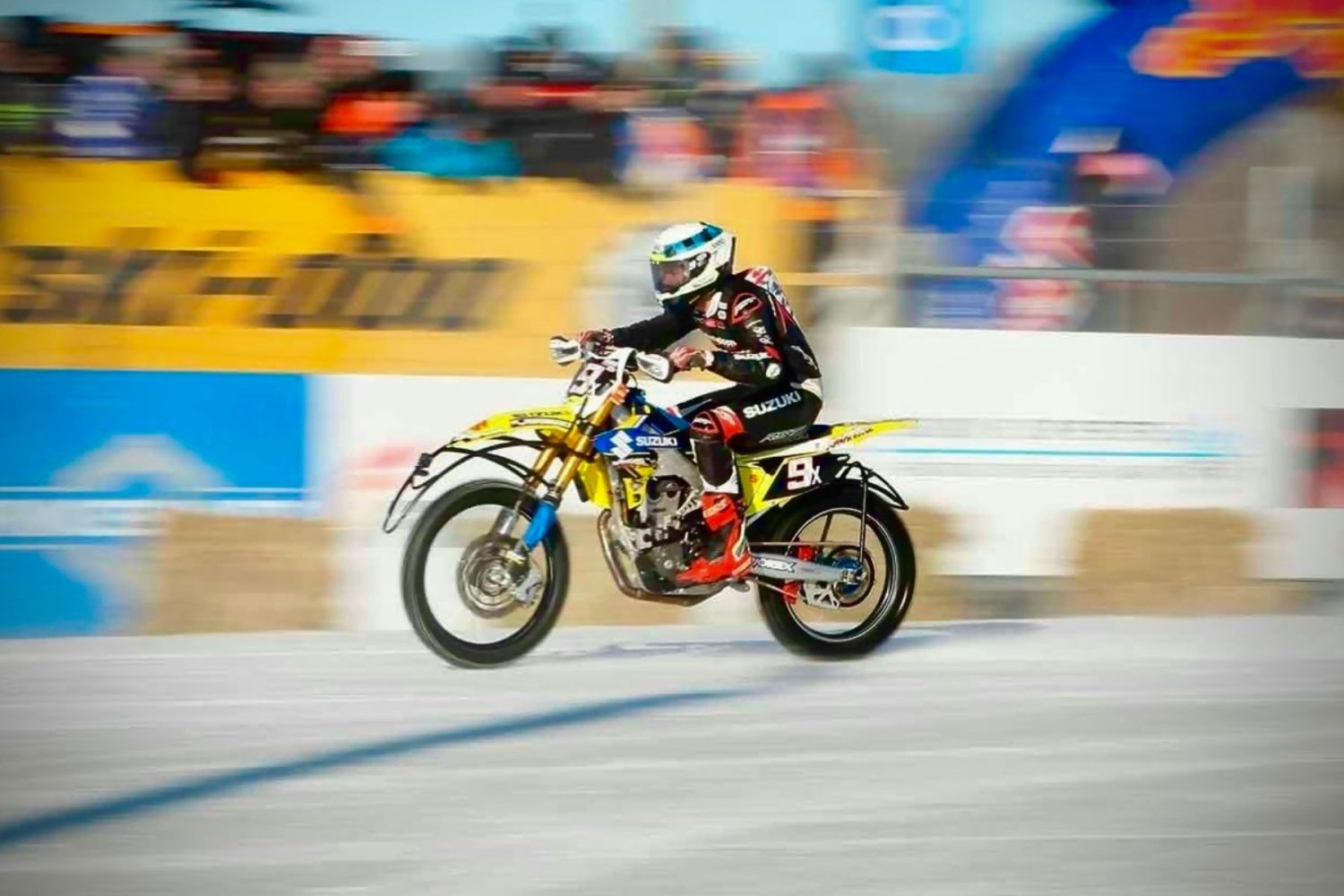 Mount Hope, Ontario, February 16, 2023
There's nothing like a good challenge to foster growth. With that in mind, OneSpeedInc/Suzuki Canada superbike rider Trevor Daley loaded his RM-Z450 into his Sprinter and made the nine-hour trek into deepest Quebec for the maddest motorcycle race in the country: the Valcourt Grand Prix.
Billed as the biggest winter motorsport event in the world, the Valcourt GP is a snowmobile, ATV, and motorcycle racing extravaganza. Picture this: 16 motorcycles with studded tires ripping around a banked half-mile oval on 15 inches of solid ice. It sounds crazy. And it is. And the weather didn't help.
For this, the 40th anniversary of the Valcourt GP, practice day-Friday dawned mild and rainy, which caused cancellation of the day's events. Fortunately, temperatures dipped Friday night and by the time the sun came up Saturday morning the track was perfect.
Due to the dodgy weather, the race format was compressed, and practice was truncated to two laps for this, Trevor's first-ever race on an iced oval. Missing a grid spot by just a few tenths of a second on Saturday, Trevor vowed to set things right for Sunday's round two of Flat Track Quebec's Triple Crown ice racing series. And wouldn't you know he did.
Qualifying 14th for Sunday's running of the event, Trevor and his just-signed-for-2023 crew chief Scott Cameron of SC Motosport fettled the RM with, most notably, a gearing change. And that, allied with a good night's rest, propelled Trevor to a stunning 10th place finish in a race where experts told him just making the grid should be considered a triumph.
Next up for Trevor are appearances at this winter's upcoming motorcycle shows. This coming Saturday and Sunday (February 18 & 19), Trevor will be appearing at the Toronto show from 11:30 to 2:30 in the Suzuki booth. The following week, on Friday February 24, Trevor will be at the Montreal show from 3 to 6 pm, again in the Suzuki booth. Want to hear firsthand about the Valcourt GP in addition to the opportunity to win swag from Ecstar, DP Brakes, and OneSpeedInc? Then head to a show and look Trevor up.
Following Montreal's show appearance, Trevor will head into the woods for the final Triple Crown ice racing round. If you're not following @onespeedinc on Instagram, you're missing details on the hardest-working man since Vanilla Ice himself.