September 18, 2021, Calabogie, ON – Suzuki Canada's race teams celebrated an outstanding weekend in the 2021 Canadian Superbike doubleheader Finals at Calabogie Motorsports Park with both Alex Dumas and Trevor Daley on GSX-R1000R Superbikes finishing on the podium in both races. At the same time, several records for Suzuki riders and Suzuki went into Canadian road racing history:
19-year-old Alex Dumas became the youngest champion in Pro Superbike class history
2021 Canadian Pro Superbike Champion – Alex Dumas – With 4 wins in the 7 race series
2021 Pro Rookie of the Year – Alex Dumas
2021 Race Team of the Year Award – Alex Dumas with crew chief Patrice Goyette
2021 Canadian Superbike Constructors Champion – Suzuki – Based on the top finishes by Alex Dumas and Trevor Daley throughout the 2021 season
This awesome performance by the teams and crews was celebrated at Suzuki Canada, as we cheered from the sidelines throughout the summer.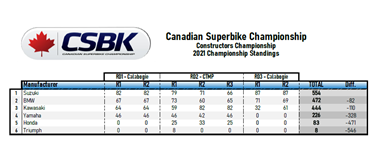 "It was an awesome day and another awesome weekend to end the year. To clinch it with pole and two wins, it feels amazing," Dumas said. "I have to give a huge thanks to Suzuki and my team for putting this year together. Everyone was such a good help, and I couldn't do it without them." – Alex Dumas
Proving once again to be a consummate professional, veteran rider Trevor Daley secured 4th position in overall standings, just behind Ben Young (2) and Jordan Szoke (3), who proved to be tough competition for Daley in race two, who called it the most 'satisfying' race of his career tactically.
"I was really patient at the start, because I knew if I could save my Dunlop tires I would have a bit more life left at the end when it mattered," Daley said. "Me and Jordan went back and forth quite a bit all race, but it got pretty close at the end there. It will be a good race to watch on TV, that's for sure!" – Trevor Daley
While we're sorry to see the 2021 race season pass, we're also looking forward to what next season will bring, hopefully with a full race schedule ahead.