As part of Suzuki's global commitment to cleaning up the world's marine environments, Suzuki Canada participated in a beach clean-up effort in beautiful Bamfield, BC on October 20, 2021. The Suzuki team partnered up with local Suzuki dealer Breakers Marine and the Bamfield Marine Sciences Centre and the Bamfield Community School to make light work of the clean-up. Despite the wild weather, the group worked together to improve conditions on two local beaches.
Located on the province's westernmost shore of the Pacific Ocean, Bamfield is home to historic first nations settlements, lush rainforest, and a vast array of wildlife, including bears, cougars, and killer whales. It is an invaluable Canadian ecosystem that needs to be preserved for future generations.
While the wild weather and COVID-19 precautions reduced the number of active participants, the group persevered to do the community proud. The bags collected contained a large amount of very small plastic pieces such as styrofoam, bits of fishing line and rope that were recovered from the beach and in the treeline.
After an extremely wet and chilly morning, the participants were welcomed back to a sheltered area to dry off with lunch beside a toasty fire.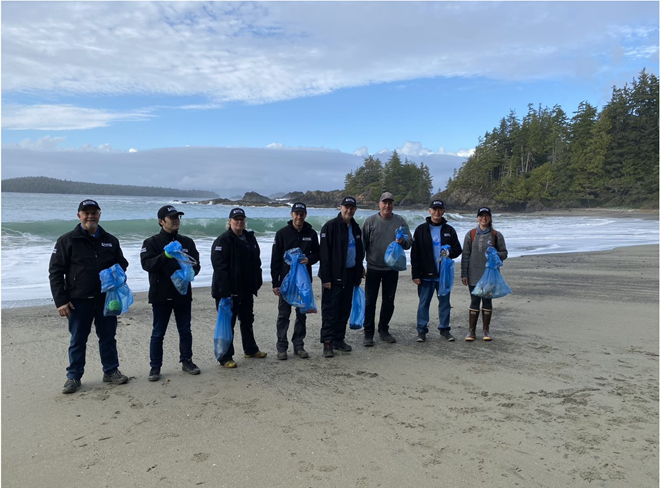 Suzuki's Clean Ocean Project
Since 2011, Suzuki has been a champion for marine environments with beach clean-ups, reduction of plastic materials, and collection of microplastics worldwide.
Beach Clean-up Programs
Bamfield BC is now just one of the many community beaches that have been cleaned up as part of this initiative. Beach clean-ups restore pride in our marine environments and increase enjoyment for everyone.
Reduction of Plastic Packaging
Starting in June 2020, many Suzuki Marine genuine parts are now packaged in paper instead of plastic. When the transition of packaging of parts from plastic to paper is complete, Suzuki expects to reduce approximately 2.3 tons of plastic.
Microplastics Collection
Not yet offered in Canada but happening in many places all over the world, Suzuki has developed a microplastic collection device that installs onto new outboard engines to reduce plastic waste, while boating.
More information about Suzuki's Clean Ocean Project is found at Global Suzuki.