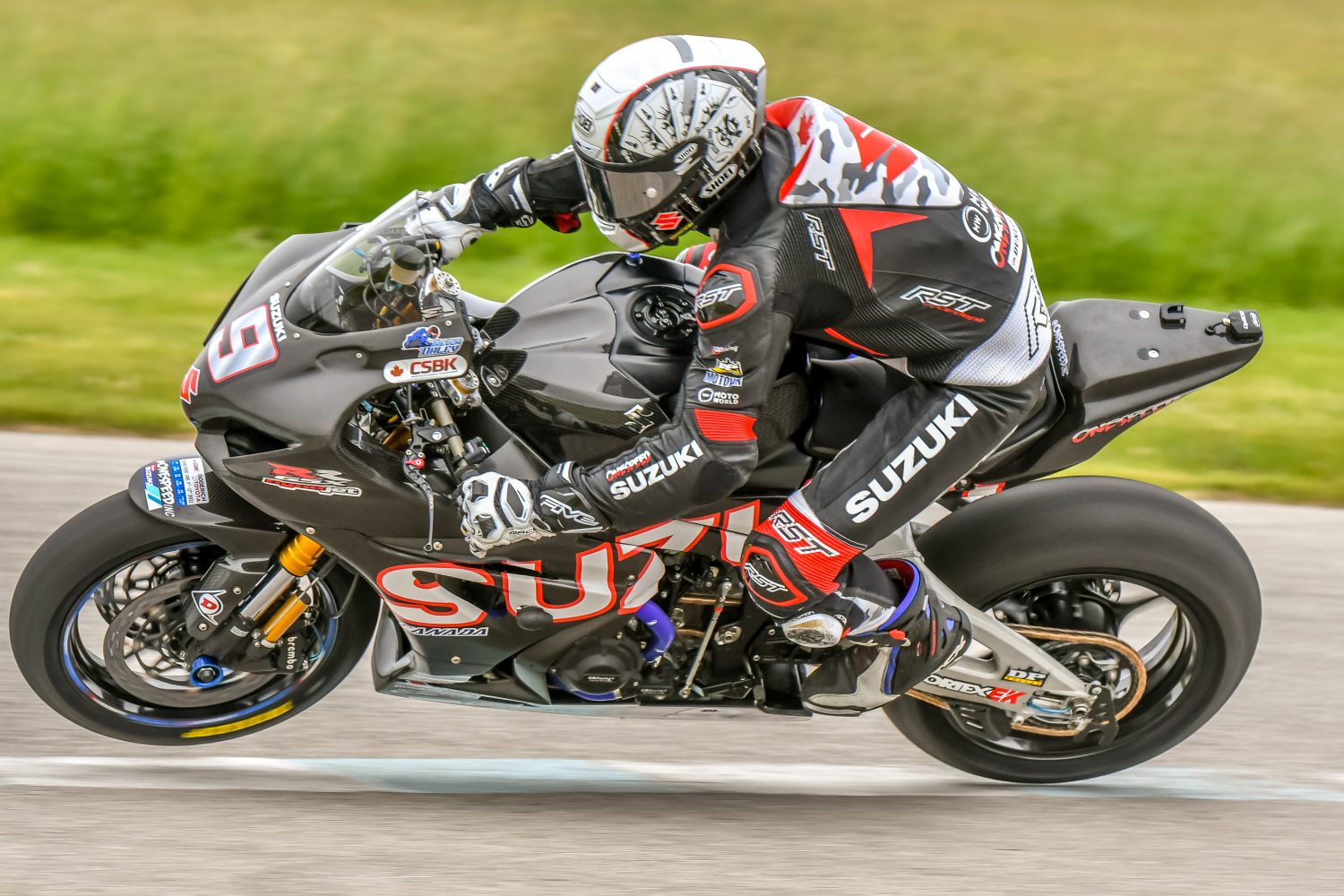 Mount Hope, Ontario, May 17, 2023
You can't pull a wagon without horses, and you can't battle at the sharp end of Canadian Superbike (csbk.ca) races for a full season without a village behind you. With that in mind, Trevor focused this off-season on building his best-ever support team.
Landing the mega-experienced Scott Cameron as crew chief was a masterstroke, a move Trevor fortified with the addition of ex-Suzuki factory rider Jeff Gaynor as head mechanic and pit-board wrangler. And because Trevor—like all the fast lads—runs close to the boiling point, the steadying influence of fiancé Laura Weston has helped him focus on the task ahead with a mind free of distraction.
And because wrestling a superbike around challenging Canadian racetracks takes as much out of a man as folding laundry in a windstorm, a winter's worth of training has Trevor at peak fitness. A key component to the past winter wasn't just riding the ice on his Suzuki RM-Z450 but racing on it, too. "Nothing in life is so exhilarating as to be shot at without result," said Winston Churchill, which neatly summarizes Trevor's madcap trip to the Quebec GP, where survival on the half-mile iced track was as much of a gas as winning. The experience jolted Trevor firmly into race mode, a momentum he's keen to build on as the racing season beckons this weekend, May 19-21, at Shannonville Motorsport Park.
"I'm thrilled to be heading back to Shannonville to start the season," says Trevor. "It's perhaps the best track on the circuit for spectators, as the majority of the circuit is visible from the grandstand."
To gain his footing on the new-for-'23 spec Bridgestone tires, a successful test was held last week at Grand Bend Motorplex,
host of CSBK's round 2. With the crew coming together like Jell-O in a bowl and with MotoSPEC software aiding the team in finding an optimum setup for the new skins, Trevor pronounced the new season officially a go.
Continuing for '23 is Trevor's flash-black livery, sinister in its absence of colour, a look furthered with matching race suits from moto-world.ca. A special welcome for the opening round goes to Belleville Sport & Lawn, who've signed on as a weekend sponsor. Say hello at the track to the BS&L team, who'll be there alongside a display from Suzuki Canada.
Finally, tickets—day or weekend passes are available—for round 1 are at shannonville.com. And come down to Trevor's pit for signed posters and the opportunity to outfit yourself in official OneSpeedInc team swag.
Enough talking. It's time to race.
Follow Trevor on Instagram @onespeedinc
View the full CSBK event schedule here: suzuki.ca/events/.