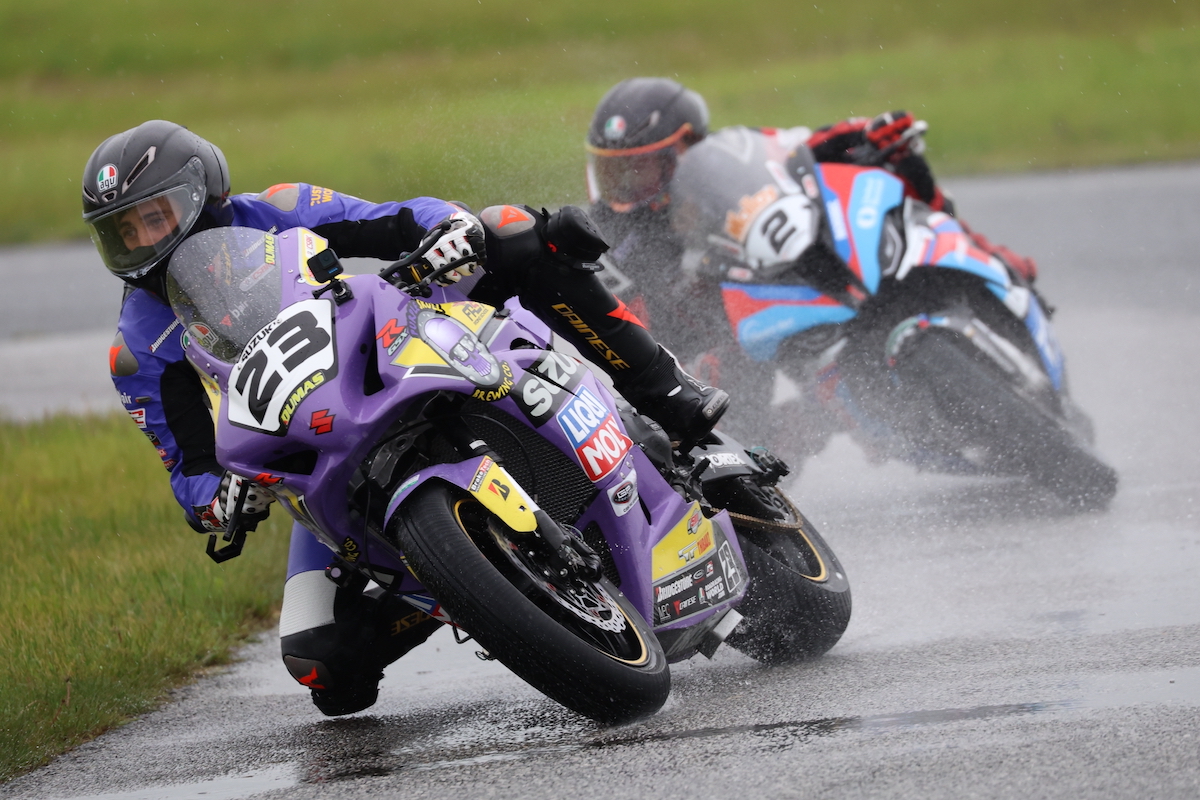 The opening double round of the 2023 Bridgestone Canadian Superbike Championship season arrived at Shannonville Motorsport Park with Suzuki GSX-R1000 Pro Superbike riders Alex Dumas and Trevor Daley ready to do battle after their second and third overall placing in the 2022 series.
Saturday's rain-soaked Superbike race was off to a clean start with number 23 Alex Dumas accelerating from the front row alongside Samuel Guerin, Jordan Szoke and 2022 series champion Ben Young. Samuel Guerin took the early lead and the battle for second pursued but eventually Alex put his GSX-R1000 into first and won by a comfortable 3 seconds.
The number 9 Suzuki rider, Trevor Daley shot off the line from the second row but when setting himself up for turn two, the tail end of the GSX-R1000 stepped out in the rain and angrily snapped back into line. The ensuing high-side brought out the red flag and ground Trevor's behind to mincemeat. But all was not lost. While the crew got the bike back into shape, Trevor cleared his medical test and gutted out a fine fourth place, just missing in his battle for a podium finish and earning the Hard Charger award.
With the clear skies and spectators filling the grandstands for Sunday's Superbike race, Sam Guerin grabbed the hole shot, but Dumas was far less patient following the BMW rider this second time, taking over the lead before the end of the opening lap. It was only a matter of time as Dumas stretched out an insurmountable lead, cruising to perhaps the most dominant victory of his Pro Superbike career.
"It's an awesome start to the season. Once I got some clear track, I just wanted to put my head down and stretch out a lead," Dumas said.
Given Trevor Daley's injuries, Saturday night was long and painful, but Trevor, who invests into racing with the same intensity that James Brown puts into live performances, meant that come Sunday, Trevor was back on the grid, ending up with a strong fourth-place finish.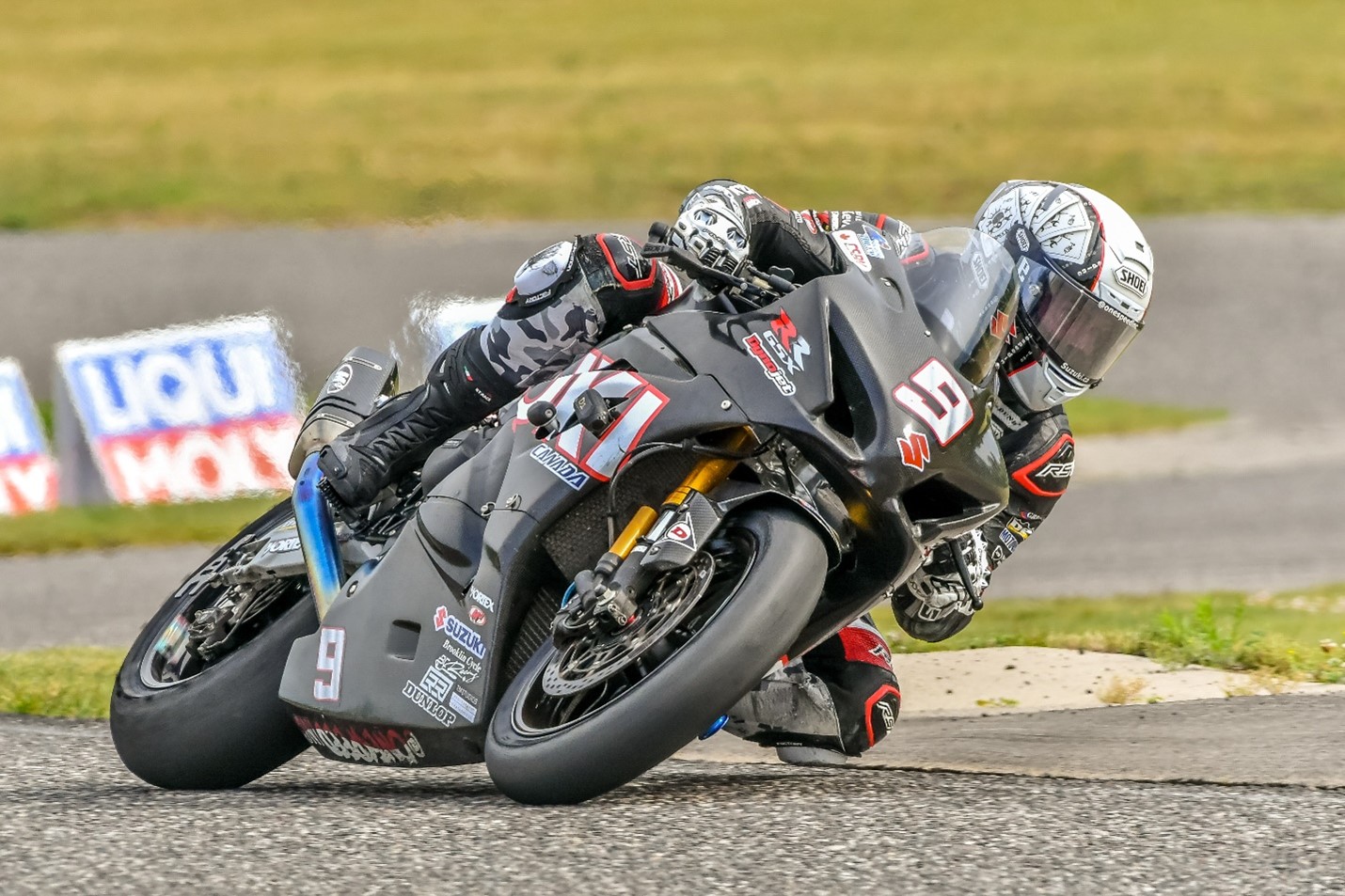 Not exactly the start to the season Trevor would have liked but his points padded Suzuki's lead atop the manufacturer's standings. Suzuki also extended their active CSBK Pro Superbike podium streak to 21, surpassing their own mark from the mid-80's to take the second-longest run ever.
CSBK Pro Superbike Top 5 – Shannonville Motorsports Park – Saturday May 20, 2023
Position
Number
Name
Hometown
Make and Model
1
23
Alex Dumas
Saint-Auugustin-de-Desmaures, Quebec
Suzuki GSX-R1000
2
1
Ben Young
Meaford, Ontario
BMW M1000RR
3
18
Tomas Casas
Peterborough, Ontario
Yamaha YZF-R1
4
9
Trevor Daley
Ancaster, Ontario
Suzuki GSX-R1000
5
8
John Fraser
Hammondsplains, Nova Scotia
Suzuki GSX-R1000
CSBK Pro Superbike Top 5 – Shannonville Motorsports Park – Sunday May 21, 2023
Position
Number
Name
Hometown
Make and Model
1
23
Alex Dumas
Saint-Auugustin-de-Desmaures, Quebec
Suzuki GSX-R1000
2
1
Samuel Guerin
Sainte-Catherine-de-la-Jacques-Cartier, Quebec
BMW S1000RR
3
18
Jordan Szoke
Linden, Ontario
Kawasaki ZX10R
4
9
Trevor Daley
Ancaster, Ontario
Suzuki GSX-R1000
5
8
Tomas Casas
Peterborough, Ontario
Yamaha YZF-R1