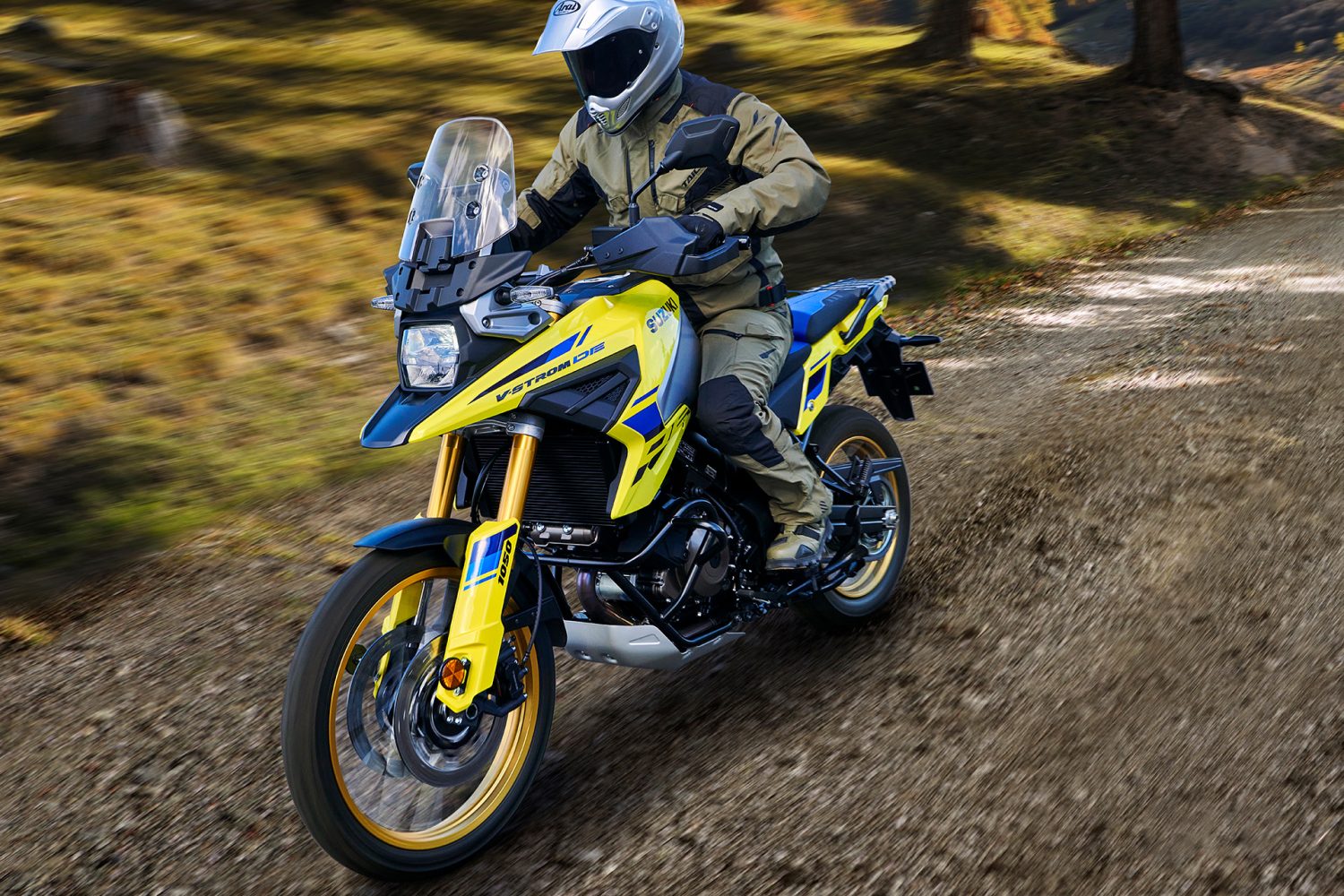 While the immensely popular V-STROM celebrates its' 20th Anniversary, Suzuki is now launching the newest addition: the V-STROM 1050DE.
V-STROM 1050DE has all the strengths you'd expect, it also features an even greater range of long-distance adventure touring possibilities: it more confidently navigates gravel, country roads, and camp trails.
Fans of V-STROM will be excited for the new, more durable construction to withstand more rugged conditions, along with features to improve handling on unpaved surfaces. Another exciting feature is the Bi-directional Quick Shift for quick, smooth shifting, a hallmark Suzuki feature. And, along with the existing advanced electronics of V-STROM, Suzuki has added a new Gravel Mode and the ability to switch rear ABS to 'off' for different handling conditions.
V-STROM 1050DE Options and Availability in Canada
The new V-STROM 1050DE will be available in Spring 2023 from Authorized Suzuki Dealers. Available colours are Champion Yellow No. 2 / Metallic Mat Sword Silver, Pearl Vigor Blue / Pear Brilliant White, and Glass Sparkle Black / Metallic Mat Black.
Highlight Features of V-STROM 1050DE
Advanced electronics such as Bi-directional Quick Shift, Suzuki Traction Control System Gravel Mode, Ride-by-wire Electronic Throttle, Updated Cruise Control and more
5-colour TFT LCD multi-function instrument panel with day and night visibility, plus USB port and 12V DC outlet, and LED lighting front and rear.
Classic V-STROM 1037 cm³ V-twin engine
Functional enhancements such as wider steel footpegs to allow the rider more stability when standing to ride, wider handlebars with thicker tubing and softer grade aluminum, solid mount rider seat, aluminum engine protector and standard equipment accessory bar.
Longer rake wheelbase for better control on gravel and flat dirt, and increased ground clearance
Longer aluminum swingarm with enhanced torsional rigidity
Longer suspension stroke to better absorb bumps
Large, wire-spoked 21-inch front and 17-inch rear wheels with Dunlop Trailmax Mixtour adventure tires
Smoke-finish windscreen, rugged 3-piece front fender, wire-spoke wheels
V-STROM 1050DE is a sturdy and versatile touring companion that can match your love of adventure. See more V-STROM 1050DE features here.