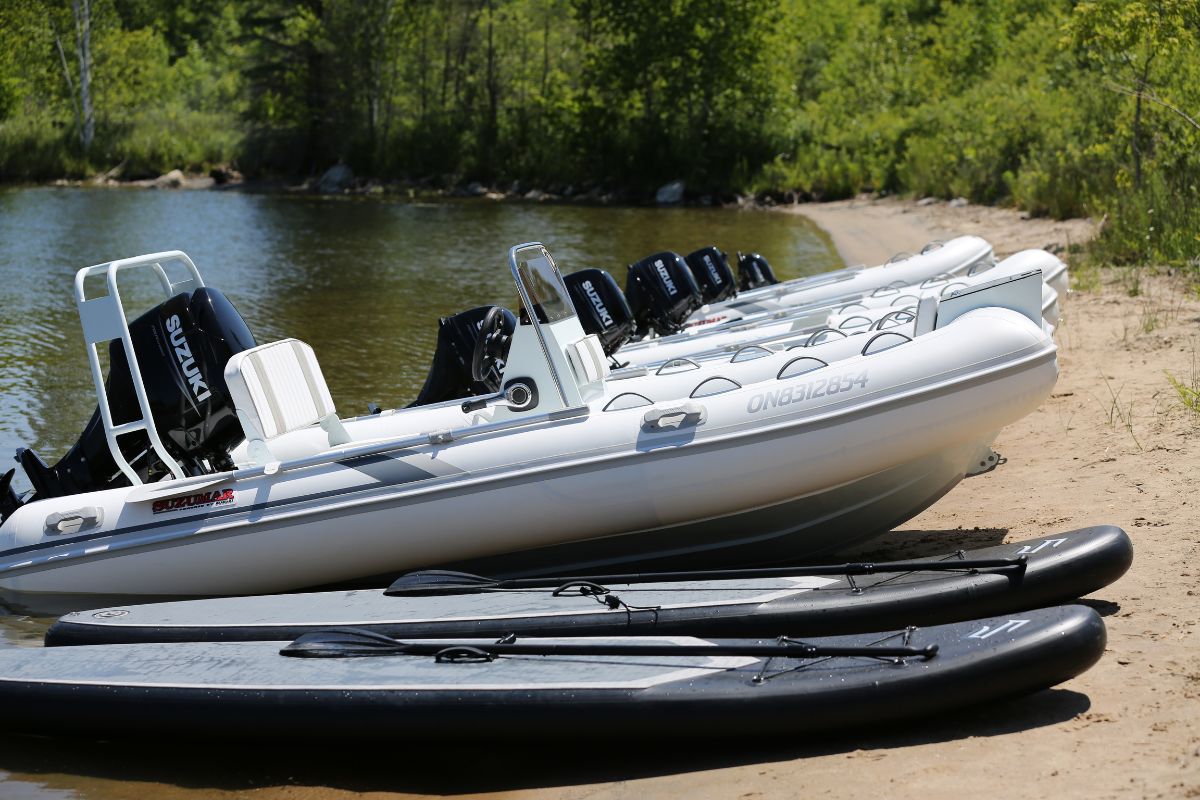 August 2, 2022, Suzuki Canada Headquarters, Barrie, ON: Suzuki Canada is adding a new lineup of rugged yet lightweight inflatable boats to their lineup in late summer 2022. The new lineup is designed to work exclusively with the Suzuki portable series engines which have the distinction of being some of the 'lightest in class': they are highly portable, efficient and powerful. Together, the Suzuki Ultimate Outboard engine and the Suzumar Inflatable are a winning combination for fun!
About Suzumar Inflatables
Designed and built specifically for Suzuki Ultimate Outboard engines, Suzumar Inflatables meet the stringent quality standards that the Suzuki name has become synonymous with. They are constructed from heavy-duty material and come in a variety of configurations that offer great stability, performance and fuel economy.
Suzumar Inflatables are ideally used for tenders for larger vessels, small fishing craft, or for cruising the many lakes and rivers Canada offers. Because they are inflatable, they can be deflated to easily fit into a vehicle for easy transportation without a trailer.
The Suzumar lineup also features a selection of rigid inflatable boats (RIBs) which have a heavy-duty aluminum keel that offers performance and durability and is easily carried with the use of a trailer.
Also included in the Suzumar lineup is our largest inflatable boat, the MX-380-ORAB. This boat features a full centre console, comfort seating, storage areas and can be paired with up to a 50HP engine.
About Suzuki Ultimate Outboard Engines
Suzumar Inflatables are designed to work with Suzuki portable engines, from 2.5HP to 50HP. Suzuki Ultimate Outboard engines feature exciting technology that enhances both performance and fuel efficiency, meaning you can go farther and play longer!
DF2.5S, DF4AS and DF6AS
These lightweight outboards feature integrated fuel tanks, saving floor space. They feature a hand-twist throttle, forward and neutral gear selector, combined with a 360-degree engine rotation for easy handling.
DF9.9BS, DF15AS, DF20AS 
Great get-up and go, coupled with excellent fuel efficiency. Electronic fuel injection working with our lean burn fuel management system ensures every drop of fuel is maximized. Plus, thoughtful design results in a powerhead with reduced engine wear and vibration.
DF50ATL
This smooth 3-cylinder double overhead cam 12 valve engine utilized electronic fuel injection in conjunction with Lean Burn technology to ensure maximum efficiency and performance. Impressive smoothness, reliability and long engine life are the result of careful attention to design.
Availability in 2022
Suzumar products are available in select authorized Suzuki dealers in Canada in the summer of 2022. To find the dealer closest to you, check out suzuki.ca/find-a-dealer/. You can also find Suzumar products at events near you.
On the Water – Quebec – September 9-11, 2023
On the Water – Montreal – September 23-25, 2023
Toronto Boat Show – January 22-29, 2023
Vancouver Boat Show – February 1-5, 2023
Montreal Boat Show – February 9-12, 2023
---